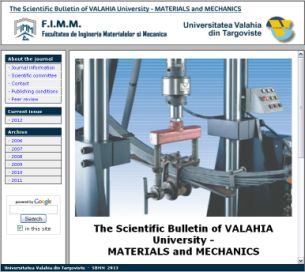 The scientific activity of teachers, PhD and students is fructified by publishing the results obtained in scientific journals recognized nationally and internationally.
Faculty of Materials Engineering and Mechanical publish since 2003, annually under the auspices of the Association of Scientists in Romania, Targoviste subsidiary:
Scientific Bulletin of Valahia University - Materials and Mechanics
SBMM
ISSN: 1844-1076.
SBMM publish original papers in the field of Materials Engineering and Mechanical Engineering. The scientific paper will cover issues in the following areas:
• nanostructured materials;
• ceramic and refractory materials;
• biocomaterials;
• metallic and nonmetallic materials;
• composite materials;
• equipment for chemical and petrochemical industry;
• industry robots;
• micro and nano robots;
• CAD design technologies, CAM, CAE;
• medical equipment.
To assist those interested, the works presented at the National Conference Mechatronics, Mechanical Engineering, Microtechnology and Ner Materials may be published in SBMM, after scientific review.